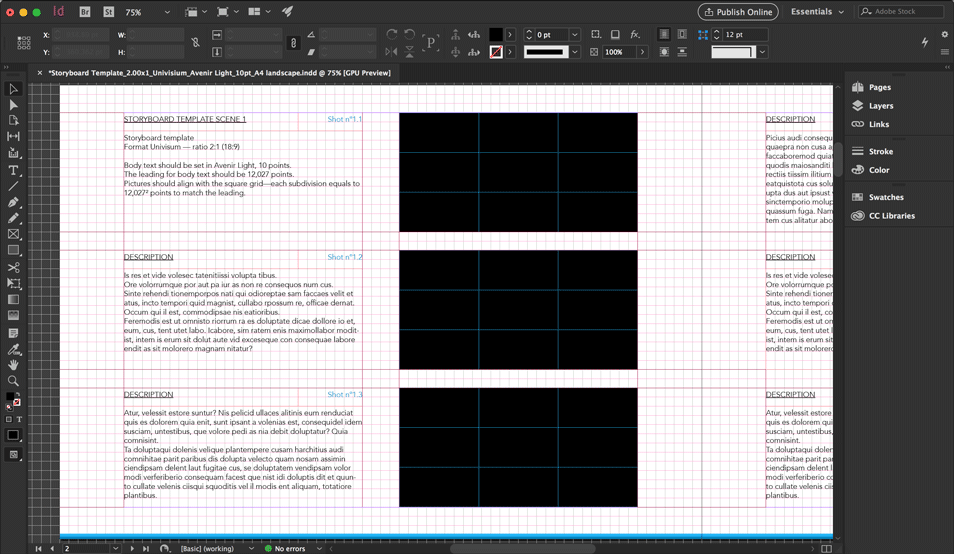 Here is a new Storyboards template for Adobe InDesign (InDesign Markup / IDML format). The frame ratio is 2:1 (18:9), which is the ratio of cinematographer Vittorio Storaro's universal film format proposal called Univisium.
If you are curious about Univisium, you should read Vittorio Storaro's PDF presentation of the format.
More and more feature films use this format. Immersive 360° films such as virtual reality videos also use an equirectangular image format with a 2:1 aspect ratio.
This 18 sheets layout is set on a Din A4 horizontal (landscape) format, ready to use for print and screen presentations. This template lets you write your screenplay or treatment notes alongside your pictures and number them. Simply edit the Text and Images layers in InDesign. The text is set in Avenir Light in 10pt. For images, just drop your pictures in the black Images layer. You can toggle on and off the rule of thirds guides in the locked layer to help you frame your compositions.
Fill in the title page, replace the logo and credentials. To edit the footer at once, use the A-Master for white background pages or the B-master for black background.